---
Red Shoe Diaries
---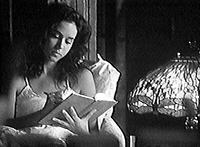 ---
Stars David Duchovny, Brigitte Bako, and Billy Wirth.

Red Shoe Diaries is a made for cable TV (Showtime) movie that was later released on VHS and more recently on DVD. Directed by Zalman King, it spawned a series of Red Shoe Diaries TV movies with name actors and particularly name actresses. It has been stated that this movie is aimed primarily at women, and I believe that to be essentially correct. That does not mean that I did not like Red Shoe Diaries, quite the contrary. Brigitte Bako plays Alex, a woman who is engaged to Jake (played by Duchovny) and carrying on an affair with Tom (played by Wirth). Neither man knows about the other. Unable to deal with the situation, Alex commits suicide. The movie opens with Alex's funeral, after which Jake finds her diaries while cleaning out her stuff. The rest of the movie consists of flashbacks of Alex's interaction with the two men, and Jake seeking out Tom to try and learn why Alex behaved as she did. It turns out that Tom works as a shoe salesman, and Alex bought a pair of red shoes from him. Al Bundy never had it so good! The bottom line is that Alex loved Jake the man, but she also loved being in bed with Tom the stud. Had Alex been a man and the situation reversed, I doubt that he would have slit his wrists to escape from his dilema. Red Shoe Diaries has excellent production values and a fine sound track that has become popular in its own right. In the end, Duchovny's character continues to feel betrayed and is still searching for answers, hence he gets to host the Red Shoe Diaries sequels.
A copy of Red Shoe Diaries is a must for any Brigitte Bako fan. The Movie is somewhat of a cult classic, which is not hurt by the fact that it was made before Duchovny gained fame in the X Files. Red Shoe Diaries is available in both "R" and "unrated" versions.
---