---
THE BRIGITTE BAKO FAN PAGE
---
This page is devoted to Actress Brigitte Bako. Brigitte began her career dancing with the Grande Ballets du Canada and acting with the Canadian National Shakespeare Company. She has appeared in a number of major and minor films during the last decade. However, information about her is relatively scarce. This page will be built as more information becomes available. An important note: this page will always be in good taste. It is intended as a tribute to Brigitte Bako and her work as an actress. Contributions and comments are welcome.
---
Brigitte with David Duchovny

From the "Red Shoe Diaries"

Here is the great "Dark Tide" box art.
---
FILMOGRAPHY

Brigitte Bako has appeared in a number of films over the last decade. The list below includes those that I am aware of. Please e-mail me with others if you know of one or more that are missing. In the weeks ahead, a synopsis of each film will be provided.

Informant, 1999
Double Take, 1998
The Week That Girl Died, 1998
Dinner and Driving, 1997
The Escape, 1997
Irving, 1995
I Love a Man in Uniform, 1994
Dark Tide, 1993
Fifteenth Phase of the Moon, 1992
Red Shoe Diaries, 1992
New York Stories, 1989
In addition, Brigette did the voice of Angela in the Disney "Gargoyles" cartoon series and the voice of Secret Agent Monique Dupre in the "Godzilla: The Series" cartoon series.
Will she get out of this one?

From "Double Take"
---
GALLERY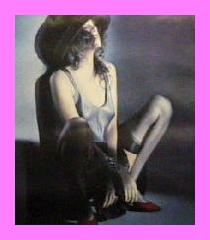 ---