---
Dark Tide
---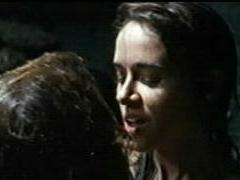 ---
Stars Chris Sarandon, Richard Tyson, and Brigitte Bako.
Brigitte Bako and Chris Sarandon are young married divers hunting for rare snakes on an exotic island. Richard Tyson plays an evil sea captain who has a brief tryst with Brigitte. There is a very erotic love scene with Brigitte and Richard Tyson in an underwater cave. Of course, Brigitte's character is married and decides that this is to be a one time only happening, much to Tyson's chagrin. Some reviewers have branded this as a "sexploitation" flick because it has quite a bit of nudity. However, I felt that most erotic scene in the movie is when Brigitte is dancing fully clothed at a local bar. This movie also features the famous snake scene with a nude Brigitte and a snake in a tub. The exotic location and excellent film work add to the mix.
Dark Tide rates an 8 out of 10. It is available in both "R" and Unrated versions.
---